tHERE IS NEVER A TEAM OF ONE
Micky Heiligengerg-Pieterse
Micky got a vision to go & do something to help a forgotten people in the valley of 1000 hills in Ximba. She has connected people & highlited this area to other organisations, which in turn has braught about a primary school for 800 learners & now a technical high school. She is the visionary & fundraiser for this project & relies on time & circumstanses to fall into place for the next steps.
She organises field trips, better known as (working holidays or mission trips) & personally leads groups to visit the project, getting involved & at the same time Micky loves to show off her beautiful place of birth & hopes that visitors will get involved for the long run in the future.
Micky has been married to Klaas Heiligenberg since 2010 & lives in Holland, running the operation from her home office when she is not in the field (part time).
She remains an unpaid member of this team since 2001 & raises all her own sponsorship monies through selling or doing stuff.
Klaas Heiligenberg
Administrator & much more
Klaas married Micky & the first things she insisted on is that he must devote himself part time to this project with Micky & he was so smitten with Micky he just agreed. Without Klaas this projects administration would be a mess, he devotes his spare time to balancing the books & preparing difficult Dutch paperwork for the authorities for further accountability. He is also the main photographer in the family & now also does all the drone work for our promotions.
He is also goes on the group trips to do the administration work, blog postings of the trips & no doubt all the photography. Which means when he gets home he still has months of work to do because Micky keeps it coming.
Klaas also enjoys motorbikes & has been a member of the CMA, a international association since they launched in the Netherlands. Micky his wife was also a member in the UK & that is how they met. Klaas & Micky are also active in the CMA mostley in the summer months of the year.
Klaas also loves wordwork & makes almost anything Micky asks for.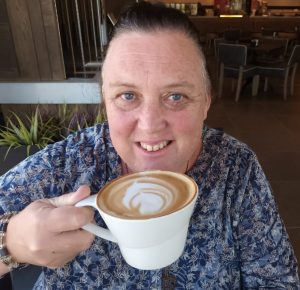 Sharlene Schultze
Director (South Africa) Project Manager
Sharlene is a dedicated wife & mother of 4 1/2 children which two are adopted. She is a entrepreneur, business owner, visionary an self confessed coffee snob! She lives on a family farm on the famous Comrades Route.  She is a special kind of lady, certainly a peoples person & teacher by nature. She is married to a Master Baker & lives among a Macadamia Nut orchard which her son manages.She is all rounder, in more ways than one, she bakes, sews and creates. Not to mention does all the running around and thinking for this very project. 
She also associates with people who love to help & be of service to people.  She calls it passionate about passionate people. She has been with Grapevine Family Foundation from the start & loves the people she works with for that very reason, she has a heart for the very same Community this foundation has set its routes.